Registered Psychotherapist (Q), BA, CYW, MDiv (she, her)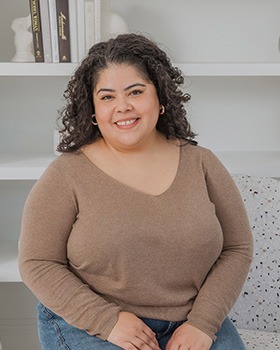 As a psychotherapist who has worked in mental health for 15 years, I aim to create a safe and supportive space where you can feel seen, heard, and understood. At the core of my approach is a client-centred lens. What does this mean for you? It means I place you, the client, at the heart of our work together.
You are the expert on your life, and my role is to walk alongside you in your journey, providing guidance and support while respecting your autonomy and personal choices.
Each person is unique, so I draw from various therapeutic modalities to tailor our sessions to your specific needs and preferences. A crucial aspect of my practice is using a cultural lens. I recognize that cultural factors can significantly impact how we experience and cope with stress and life's difficulties. By embracing cultural diversity, I aim to foster an inclusive and understanding environment where your background and experiences are respected and integrated into our work.
Having personally experienced exhaustion, anxiety, and uncertainty, I understand what grappling with complex emotions and thoughts is like. I empathize with the struggles you may be facing, and it is this shared human experience that drives me to be deeply compassionate and non-judgmental in our sessions. Together, we will navigate through these feelings, helping you gain clarity and confidence in understanding yourself better. Many of my clients are professionals who face the challenges of burnout, stress, and fatigue, impacting various aspects of their lives. I am dedicated to helping you regain balance and reclaim your well-being.
Together, we will explore strategies to enhance your personal and professional life, strengthen relationships, and improve your overall quality of life.
Taking a step toward seeking support is courageous, and I commend you. I am here to listen, validate, and empower you on your journey toward healing and growth. If you're ready to embark on this transformative path, I am honoured to be your guide. Let's begin this journey and work towards a more fulfilling and meaningful life.